Regular price
Sale price
$38.00 USD
Unit price
per
Sale
Sold out
Come learn how to add pendulums to your divination practice
Share in group meditation and intention setting for our shared time
Learn history, how to use, and different ways to work with your pendulum and board(s)
Pendulums provided for class time and will be available for purchase after class
Craft your own pendulum board for your own individual use and share in community chat to close out our time together
Soulshine and Moonbeams: Build Your Practice - Pendulums 101
In this hour and a half long informative and hands-on class you will leave with the confidence in your pendulum divination and a lovely pendulum board you created to use in your own practice.
Energetically we will all come together in an opening meditation to focus ourselves for this divination space. During the informative section of the class we will go over a brief history of the pendulum and its magical properties, as well as the many uses pendulums have acquired over time, and how to cleanse your divination tool. There will also be some hands-on instruction where you will learn how to use a pendulum in your own hands for your own practice. Kreepy Kaylee will be providing her hand made pendulums to use during class and they will be available for purchase after class at Thirteen Circles. We will end this segment with a closing meditation to ground ourselves after divination. 
The second half of the class will be time for open discussions, community communication, and hands on crafting. We are very excited to create not only magic with you but also a little art. This board we create will be perfect for you to take everything you learned home to your personal practice. This is also a great time to ask questions and meet the other practitioners in your community. 
This is an 18+ event and will be B.Y.O.B.(for 21+ attendees) as you are welcome to partake in some of your own spirits, if you so choose to bring them (Beer/wine/cider only, please. No hard liquor). We can't wait to brew up some magic with you!!
Kreepy Kaylee is a generational seer and childhood NDE(near death experience) survivor. She follows an intuitive and eclectic path as a practitioner, including pieces from different magical communities as they resonate with her practice. She primarily shares her gifts with the public for divination and spell work, along with creating physical ritual and divination tools like pendulums, Florida Waters, Ritual Oils, and spell work. Kaylee's divination abilities include tarot, pendulums, runes, channeled downloads, and energetic palmistry. Her sight stems back all the way to early childhood and is a generational gift. Kaylee likes to use her mediumship to help work with the deceased to convey their messages and help resolve any unsettled energies that cross from their world to ours. Kaylee also co-runs a queer, neurospicy, family business, Soulshine & Moonbeams, that combines divination readings with tools and supplies for spell work to help people connect with their higher selves and work through their own spiritual journeys in their own individual way, outside of the constraints of organized religion and the restrictive societal norms of the patriarchy, colonialism, and capitalism. Kaylee loves to hike and explore nature and is raising the next generation of little witches to respect the Earth and harvest responsibly.
Share
View full details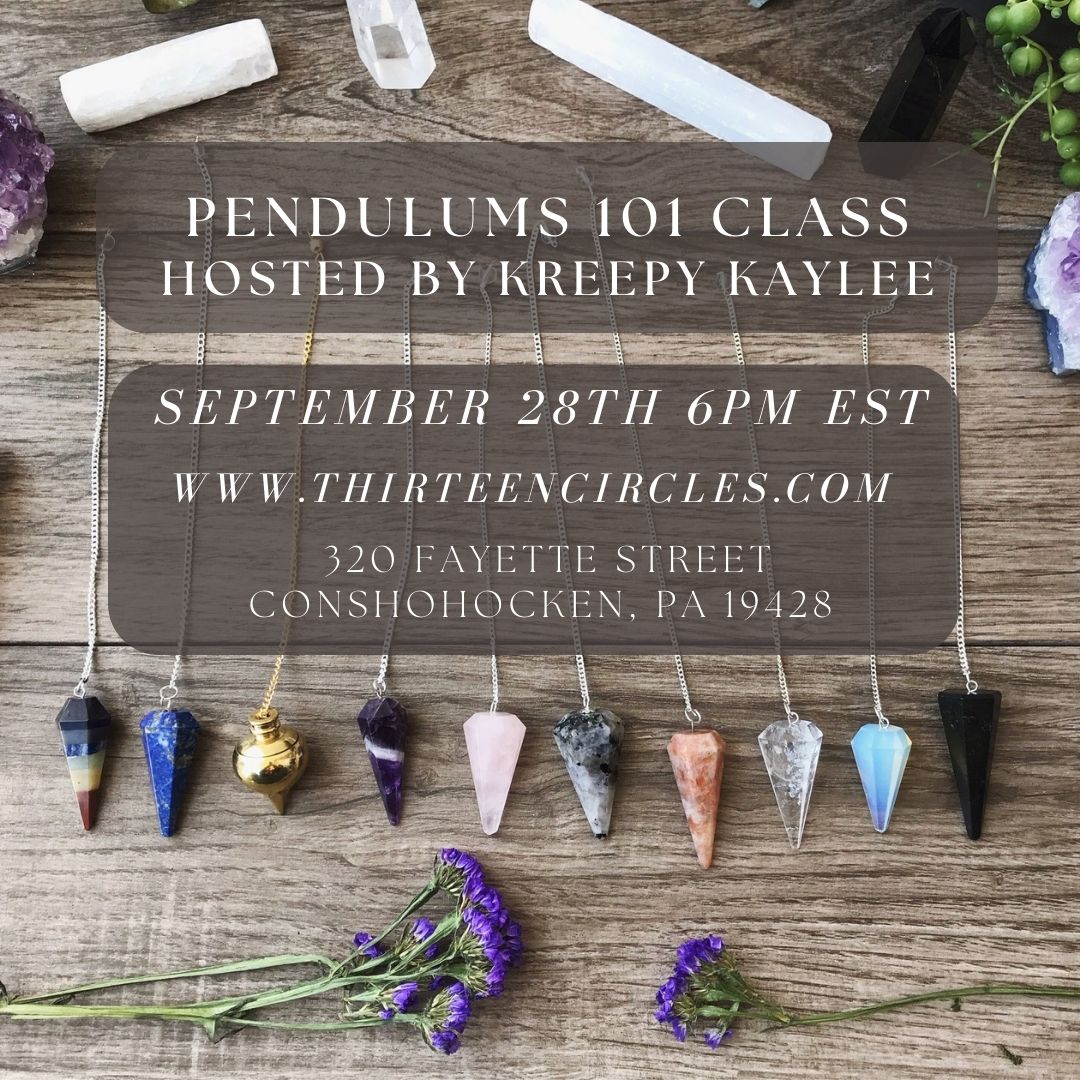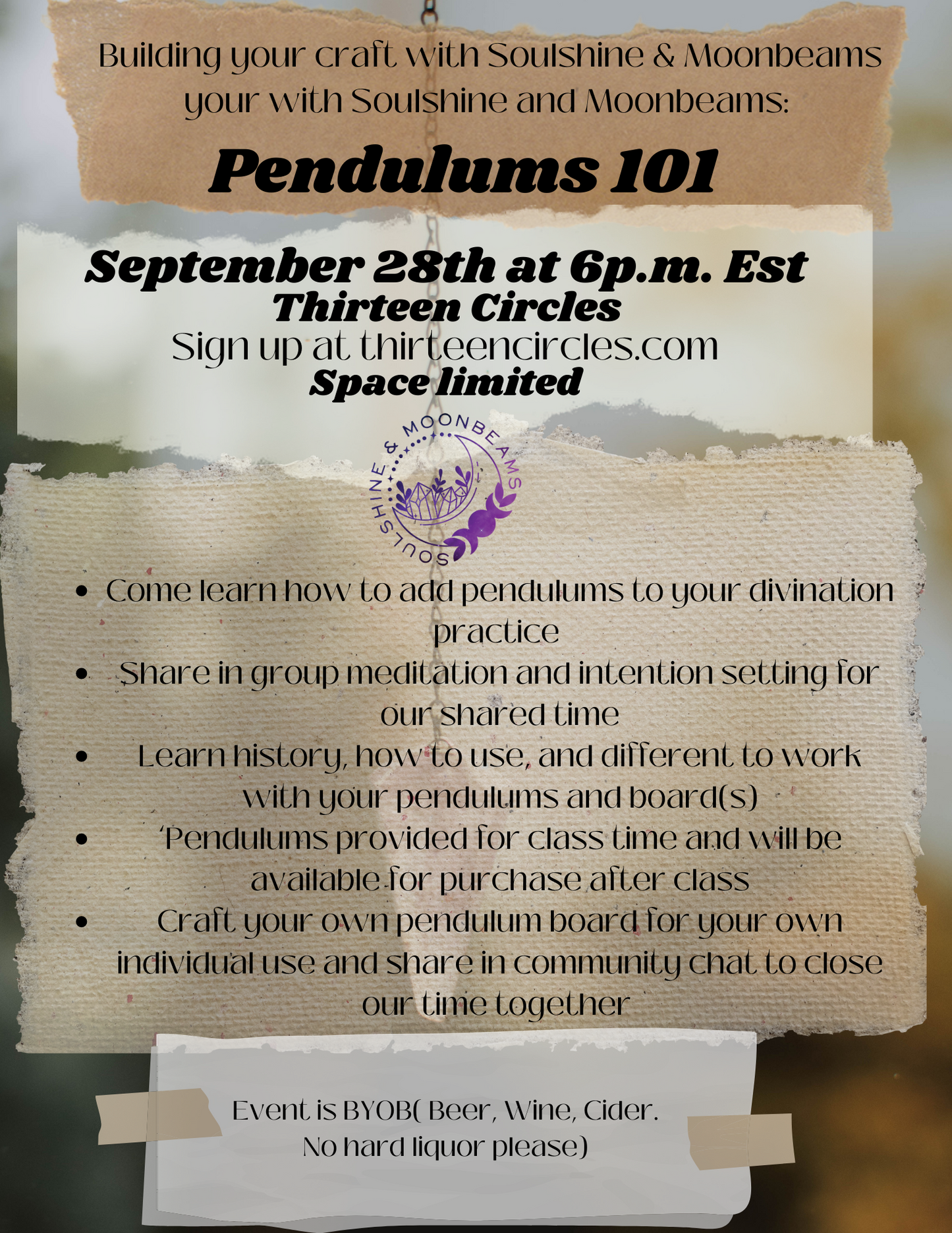 Magick from real Witches!
Here at Thirteen Circles we pride ourselves on authenticity and our unique yet powerful energy. Many of our products are handmade and curated by our founders and resident witch - Lily. Come in and ask any questions you have and let us guide you in your path - be it spiritual or simply just crystals. We are here to make your world more magickal!